Schools - Arts and Sciences (tall)
Sep 20, 2016, 16:08 PM
Display Title :
Button Text :
Button Link :
Select a vertical text position :
Top
Select a horizontal text position :
Left
Select your choice of text alignment :
Left
Welcome to the School of Arts and Sciences
The School of Arts and Sciences consists of fifteen academic departments, covering a total of 64 majors, and 46 minors. In any given year, approximately 200 undergraduate degrees will be awarded to students with majors in Arts and Sciences.
Basic cornerstone skills courses, taken by all students at Edgewood College, are housed within Arts and Sciences. In addition, faculty members provide their expertise in various Ways of Knowing and Perspectives on the World courses and are essentially involved in teaching the College's signature COR courses.
The primary commitment of the School of Arts and Sciences is to the Liberal Arts, the heart of the Dominican intellectual tradition. We are dedicated to all that the Liberal Arts have to offer: the search for truth, the appreciation of beauty, the building of community, the passion for justice, and the love of life.
Students who pursue a major or minor in one of our departments develop a deep understanding of the principles of the Liberal Arts, but all Edgewood College students benefit from our School. Our faculty also provide discipline-based instruction and expertise to students with majors in the College's professional and other Schools.

Nursing majors will complete several courses in Biology, Psychology, Chemistry and Mathematics. The Business major is enhanced by coursework in Economics, Mathematics and Computer and Information Sciences. And our Education majors are supported through 11 discipline-specific teaching majors and 16 discipline-specific teaching minors.
You, our students, will use the Liberal Arts to develop skills, explore ways of knowing, understand the world, and discover your potential for rewarding lives of public service, personal fulfillment, and professional development. And when you do that, we in the School of Arts and Sciences will celebrate your accomplishments!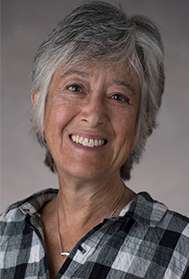 Sincerely,
Melanie Herzog, MFA, Ph.D.,
Dean, School of Arts & Sciences
Professor of Art History
Edgewood College