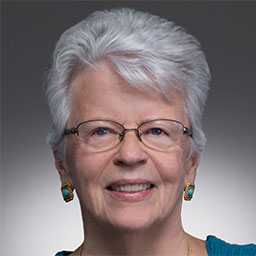 Mary Ellen Gevelinger
, O.P., Ed.D.
Mary Ellen Gevelinger, O.P. assumed the role of Interim President on September 1, 2019.
Dr. Gevelinger has served – and will continue to serve – on the Board of Trustees of Edgewood College.
Gevelinger is a seasoned leader and administrator with decades of experience at the helm of complex organizations. She served as Prioress of the Dominican Sisters of Sinsinawa congregation until 2016, having served as Vicaress (vice-president) for six years prior to assuming that chief executive role.

Earlier in her career, Gevelinger served as Director of Personnel and Planning for the Archdiocese of St. Paul and Minneapolis, with responsibility for more than 100 Catholic schools.

She retired from her position as tenured faculty member and Director of Doctoral research in the School of Education at Edgewood College in 2011.

Gevelinger holds degrees in Classical Languages, Religious Studies, and holds an Ed.D. in Educational Leadership from the University of St. Thomas.

Edgewood College will begin a national search for a new president with an eye toward having a new leader in place at the start of the 2020-'21 academic year.