School of Nursing Front Desk
Welcome to the Henry Predolin School of Nursing at Edgewood College

Our Traditional Bachelor of Science in Nursing and 12-Month Post-Baccalaureate Bachelor of Science in Nursing programs are highlighted by an exceptional faculty, diverse clinical site offerings, excellent facilities, and impressive NCLEX pass-rates. We offer small classes that allow for engaging teaching styles and promote active student learning. The Henry Predolin School of Nursing partners with over 70 community agencies in and around Southcentral Wisconsin for clinical placements including UW Hospitals and Clinics, The American Family Children's Hospital, UnityPoint Health-Meriter Hospitals and Clinics, St. Mary's Hospital Medical Center, Veteran's Administration Hospital and multiple public health sites and public/private schools sites just to name a few. In addition to clinical placements, our students also utilize the state-of-the-art simulation lab at the Center for Healthcare Education and Simulation.
Our Master's and Graduate Certificate programs are designed to address the needs of working professionals. Course offerings are in the evenings to accommodate busy schedules. The Master of Science in Nursing Administration program and Master of Science in Nursing Education programs are 36 credits, with course offerings in the fall, spring and summer semesters. Specialty courses in the Nursing Administration program focus on managing healthcare systems, roles of the executive in a health setting, business communication, organizational behavior, and healthcare finance. Application of this degree is often seen in healthcare management roles, executive administration, as well as in program planning and evaluation. Specialty courses in the Nursing Education program focus on teaching/learning theory, curriculum instruction, teaching methodology, as well as in program planning and evaluation. In addition, the graduate nursing programs at Edgewood College offer practicum opportunities that expose students in a concentrated experience of interest.
In the fall of 2013, we launched our Doctor of Nursing Practice (DNP) in Leadership degree. This post-master's program prepares individuals for advanced nursing leadership positions. Courses are offered in a blended online format that requires students to be on campus a few times per semester with the rest of the work done through online facilitation. DNP students progress through a curriculum grounded in translating research evidence into best practices that ensure community members receive the highest quality care.
Our students and alumni have assumed leadership roles in education and administration throughout our community. Graduates have also been successful in becoming certified through the American Nurses Credentialing Center. We are proud of all of them, and welcome you to our program.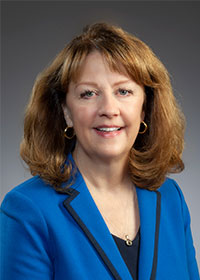 Sincerely,
Margaret Noreuil PhD, RN
Dean, Henry Predolin School of Nursing
Edgewood College
Apply to the School of Nursing
Meet Your FacultyNursing faculty opportunities
ACCREDITATION
The baccalaureate, master's degree in nursing, and doctor of nursing practice programs at Edgewood College are accredited by the Commission on Collegiate Nursing Education, 655 K Street, NW, Suite 750, Washington, DC 20001, 202-887-6791.